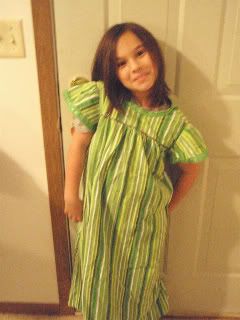 Here is the finished gown I was working on not long after our move. I finished it a few weeks ago and the kid has been loathe to take it off ever since (I'm sorta proud of this). It was obvious from her measurements and the pattern itself that this was gonna be big on her, I didn't have a problem with this as she can get more wear out of it. I did have to take a good 6 inches off the hem to make it short enough for her...lol. I left a good deal of length IN the hem so I can let it out as she gets taller (if that ever happens). It is a bit wrinkled in the pic because it had been put into a pile of clothes fresh out of the dryer. I still have some of the striped flannel left and want to make the robe for her. I think I am gonna use Lisa's idea and use some coordinating solid flannel to make the yoke of the robe. The next time I go to Joann's I'll take the remainder of the fabric with me to match it up. If nothing else, I can make the robe from white flannel and create a pillow for her out of the striped flannel.
I did learn a lesson about what type of trim NOT to use around a neckline. This was lovely trim that I found on clearance at Hancock's about a year ago. It had been sitting in my stash since then. It matched perfectly and so I put it to use. I'll have to get a more detailed shot of it to post. It is crocheted with lace run through the middle portion to make a woven look. It worked wonderfully around the arms but, not so well around the neck because of tension on the outer side of the trim, it causes the trim to roll up and sit funny. I also determined that I really dislike 1/2" buttons, they are just too small for my fingers. For any future projects, I'll pay special attention to the button section to determine whether or not I can make room for larger buttons.
All in all, I'm happy with the way the gown turned out and I am very happy that she likes it so much. I know I don't have much longer before she loses interest in the things I make her (the teen years are approaching way too fast for comfort). As much room as she has in this gown, she may be wearing it into her teen years...